Following the postponement of the NUJ Delegate Meeting following the Covid-19 outbreak and lockdown, an online conference will now take place for delegates on 21 and 22 of May alongside a week's programme of broader events taking place across the union's nations and regions, open to all members.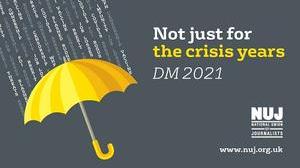 The main business, for delegates and observers, will be carried out on Friday 21 May and Saturday 22 May. Starting from Monday 17 May will be week of events, fringes, sector conferences, training sessions and a Friday night social with comedian Mark Thomas for all NUJ members.
Timetable and agenda for DM Business
Please note: The timetable continues to be revised in advance of the business starting.