#ForgottenFreelances: MPs back NUJ's plea for PAYE freelances
Letter to Chancellor Rishi Sunak welcomes extension of freelances aid package, but says many, including those in limited companies, have been left out.
A letter from the NUJ to the Chancellor concerning freelances who have fallen through the cracks of his Covid-19 aid packages – particularly those who have PAYE income – has received cross-party support from MPs.
Michelle Stanistreet, NUJ general secretary, said the union welcomed the extension of the Self Employed Income Support Scheme (SEISS) for a further three months and said for those in receipt it had been a lifeline as their work had dried up virtually overnight and there was none on the horizon.
However, it remained the case that a significant number of freelance journalists had not been able to access any government support at all.
The letter said:
"A key group that requires urgent attention is PAYE freelances and those who have PAYE income. Over the past 30 years, freelances doing shifts for newspapers, broadcasters, magazines and publishers have been forced by companies, often under the direction of HMRC, to be taxed at source via the PAYE system.
"These individuals remain self-employed/freelance for the purposes of employment law with no protection or employment rights such as sick pay or maternity leave, yet are forced to pay tax and National Insurance Contributions (NICs) at an employee rate. This PAYE income is now considered by HMRC to be 'employee' income rendering those individuals ineligible for the SEISS scheme.
"While in theory this makes such members eligible for the Coronavirus Job Retention Scheme (CJRS) if working for the client company at the cut-off date, the reality is that many employers have refused to do so. Some work for the public sector – such as the BBC – which precludes them from accessing the CJRS.
"Those who were not working for the client company at the cut-off date, are now not eligible for support either under the CJRS or the SEISS – despite having paid their taxes and NICs in exactly the same way as employed colleagues covered by the furlough scheme."
The letter also raises the case of people who work via limited companies/personal service companies – often forced to by companies – and have paid tax and National Insurance via PAYE or have been found to come within IR35 and are taxed at source, and are also ineligible for support.
The letter said:
"A recent survey of more than 1,200 NUJ members found that a third did not expect their incomes to improve until next year, with 40 per cent saying it could take three to six months, and 16 per cent believe they will not be making their living from journalism after the coronavirus pandemic. That is why urgent action is needed now."
The letter has also been signed by: Chris Matheson MP (shadow media minister, Labour), Dr Julian Lewis MP (Conservative), Daisy Cooper MP (Liberal Democrat), Baroness Bonham Carter (Liberal Democrat), John Nicolson MP (Scottish National Party), Chris Stephens MP (Scottish National Party), Liz Saville Roberts MP (Plaid Cymru), Caroline Lucas MP (Green) and Claire Hanna MP (Social Democratic and Labour Party).
#ForgottenFreelances
If you are a #ForgottenFreelance, use this template letter to make your case via your MP or directly to the Treasury:
Use this model letter to HMRC to appeal against your ineligibility for the SEISS scheme due to PAYE income:
You can find your MP's email address on the WritetoThem website:
Support the NUJ's #ForgottenFreelances by tweeting a picture of yourself with the campaign logo: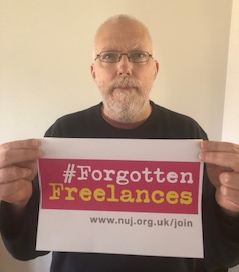 Download the logos:
(the thumbnails link to larger versions of the images)