Women in Sports Journalism
When
Thursday 13 December 2018
11:00 - 15:00
Download as vCalendar (for Microsoft Outlook etc.)
Import event to your Google Calendar
Where
Cardiff Metropolitan University, Cyncoed Campus, Cardiff CF23 6XD
Details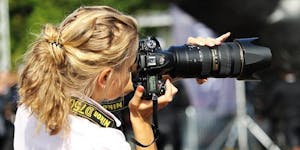 NUJ Training Wales is delighted to be working with Cardiff Metropolitan University and Welsh equalities charity Chwarae Teg to bring together some of the leading female voices from the Welsh sports media and beyond for this important half-day conference.
2018 has been a watershed year for women in many ways, not least in increasingly prominent roles covering sports on our screens, over the airways, online and in print. This is a unique and not-to-be-missed opportunity for anyone with an interest in sport, sports media and equalities to learn from and connect with some of the most interesting and insightful media professionals, academics and future sports journalists in our industry.
Keynote Speakers:
Anna Kessel MBE: sports writer for The Guardian & The Observer, co-founder of Women in Football
Cerys Furlong: CEO of Welsh equalities charity Chwarae Teg
Print & Online Panel (AM)
Chair: Julie Kissick: senior lecturer, University of South Wales & football writer
Anna Kessel MBE: writer for the Guardian, Women in Football
Catrin Pascoe:editor, The Western Mail Katie Sands – Senior Multimedia Journalist, WalesOnline
Broadcast Panel (PM)
Chair: Dot Davies – presenter, BBC Cymru Wales
Sue Butler: sports editor S4C
Carolyn Hitt: writer, producer & broadcaster, Parasol Media
Beth Fisher: freelance broadcaster, former Wales hockey international
Nia Jones – TV pundit, current Wales netball & football international
Plus a special student journalists' panel, including Winter Olympian & broadcast masters student, Mica Moore.
Price
£5 students (including £5 deposit, refundable upon attendance)
£10 NUJ members living and/or working in Wales (including £5 deposit, refundable upon attendance)
£20 other union members in Wales (including £5 deposit, refundable upon attendance)
£25 everyone else
Price
£5 students (including £5 deposit, refundable upon attendance) £10 NUJ members living and/or working in Wales (including £5 deposit, refundable upon attendance) £20 other union members in Wales (including £5 deposit, refundable upon attendance) £25 ever
Further details and contact information
NUJ Training Wales
Email: richards@nuj.org.uk